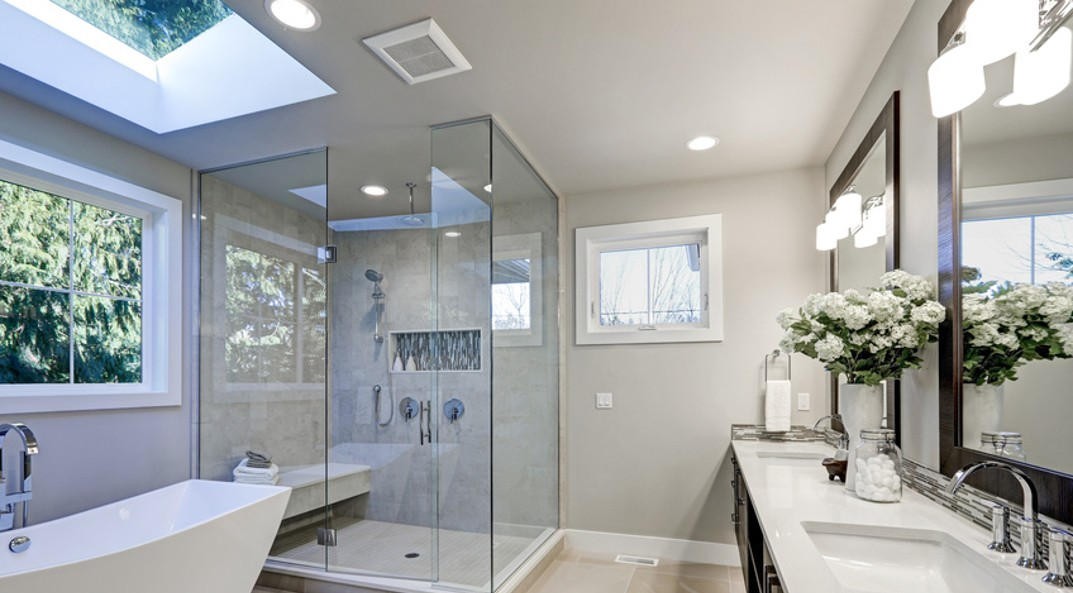 We recently went away for a long weekend and stayed at a nice condo with a view of the Gulf of Mexico. But as nice as the condo is, the shower design left a lot to be desired. The controls were positioned in the wrong place, the shower head was set too low for a taller person, the clunky glass door was all wobbly and unattractive, there wasn't a place for soap and shampoo, and more. So taking a shower wasn't enjoyable at all.

What bothered me most about this was that, with a little forethought and no extra cost, the shower could have been quite nice. There was ample space and lots of natural light in the bathroom. So my guess is that the shower wasn't nicer only because the designer and builder didn't think about the shower at all.

So here are 8 tips on how to avoid this when you decide to remodel your bathroom.
1

Right sizing.
I hate showers that are too small and are claustrophobic. It's like those showers at summer camp when we were kids. Fine for when I was 10 but not now. So to get the optimum size I'll ask clients to stand with their arms outstretched and then turn in a circle. This circle will be the absolute minimum size shower the client will want. If you have the space, a good rule of thumb to follow is that the shower should be a minimum of 60" by 36". Of course the shower can get bigger as we add things like a bench or other feature.
2

An easy reach to the controls.
Another pet peeve is when the shower controls are placed such that I have to walk into the shower to turn the water on or off. That initial burst of ice cold water getting me wet is something we can all do without. Setting the controls in a location that can be accessed from outside the shower area is easy and well worth the few feet of extra piping.
3

Bench

.
Whether this is a place to sit and relax (especially if it's in a steam shower) or a prop that enables you to easily shave your legs, benches are essential components of a well designed bath. A bench placed where there is ceiling height makes the shower all the more usable and enjoyable. Shower benches can be fun and can also be made to fold up to be out of the way.
4

A place for shampoo and soap.
A small, recess in the shower wall with a shelf or two works magic when there are multiple bottles of shampoo, conditioner, gel and more. Size the niche to accommodate the tallest bottle you'll use and make sure to slope the shelf towards the shower to allow it to shed water easily.

5

A deluge of shower heads.
From the standard, wall mounted head to a rain head to body sprays to hand held showers, there's an amazing wealth of shower heads available today. Just make sure that there's enough hot water and water pressure to accommodate all of these. Certainly a tankless hot water heater near a shower will come in handy when the showering goes on for awhile.
6

Keep it bright with natural light.
Showers don't have to be at the darkest corner of the bathroom. But when they are, add some glass block to brighten up the space.
And use a glass door so the light filters into the bathroom or a skylight when there's no window.
7

Consider an open shower.
You want a separate shower and tub but you only have a narrow, tight space. Consider an "open shower" that places the tub after the shower.
8

Go curbless.
A curbless shower isn't just for those with difficulty getting around. A curbless shower can turn the entire bathroom into a showering room.

Source: https://www.houzz.com/ideabooks/902442/list/8-ways-to-design-a-better-shower